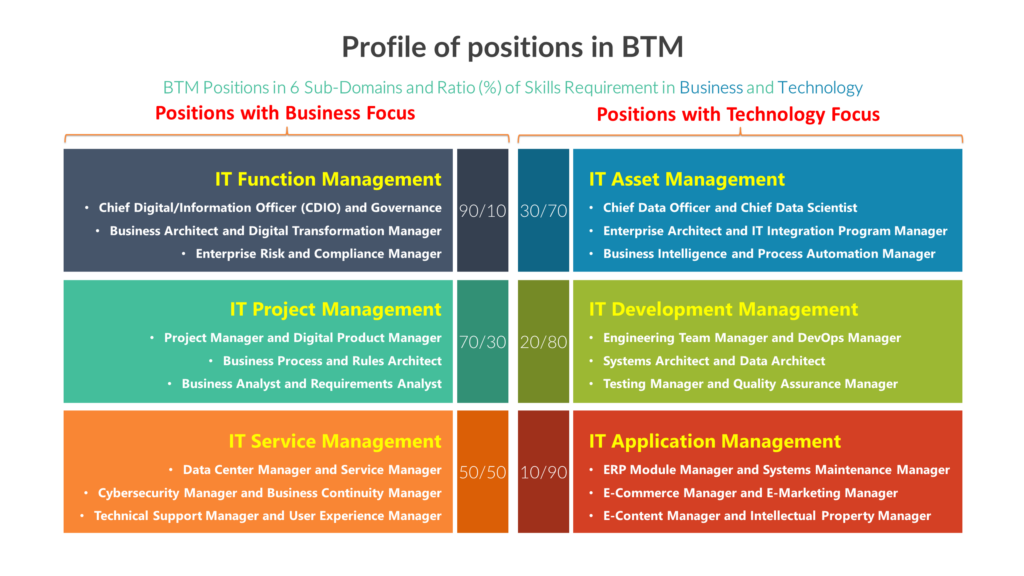 Business Technology Management (BTM) Forum is a non-profit initiative to prepare the next generation of digital leaders.
We unify all IT-related disciplines (business, computing, engineering) within a common digital leadership career.
We provide education and training standards for program accreditation and open/free guidance resources.
What is Business Technology Management (BTM)?
Business Technology Management (BTM) is a broader definition of the unified professions responsible to lead Digital Innovation, Transformation, and Entrepreneurship (DITE) projects. It still includes primarily the traditional IS/IT management practices, generally located within the Chief Information Officer (CIO) branch. But BTM also integrates Out-of-IT roles, such as Chief Digital Officer (CDO), Digital Product Manager, Digital Marketing, Data Scientists, etc. It is also concerned about digital expertise among all other professional roles involved in DITE projects, and to some extent the digital acumen of all operational roles responsible to lead the "transformed" digital organization.
What is the mission of BTM Forum?
The mission of BTM Forum consists of 3 integrated purposes:
(1) to coach digital leaders from all disciplines (business, computing, engineering),
(2) to develop their hybrid acumen (business, technology, management), and
(3) to broaden their digital vision, from "information" to "business" technology management.
How large is the BTM community?
We are presently running a census to determine how large the BTM community is, and also what are its aspirations and priorities. Please fill-out our BTM Survey to share your viewpoint and collect basic statistics. BTM is a brand name adopted by more than 20+ IS/ITM programs in Canada, and before the pandemic the number of graduates was above 3000.
Who is responsible for the BTM Forum and its trademarks?
BTM Forum is under the stewardship of the Digital Innovation Foundation (DIF), a non-profit organization incorporated in Québec, Canada. The executive team is constituted into a BTM Global Council whose members include the Chairs of National BTM Councils.
Trademarks were registered in 2017 as follows:
The following registered designs distinguish BTM brand names:
Some educational institutions and non-profit organizations in Canada have been using BTM and or GTA as brand name prior to 2017 and maintained their rights within the scope of their services.
What are the origins and timeline of the BTM initiative?
The BTM initiative has a long history with numerous contributors. Born in 2009 in Toronto, ON, Canada, the group was funded for a while through a grant from the Government of Canada, but has since become self-reliant. Here are the turning points in its evolution.
2009: A team of faculty and industry leaders attend a meeting at the Toronto Metropolitan University (TMU) organized by the Canadian Coalition for Tomorrow's ICT Skills (CCICT); they launch the Business Technology Management (BTM) initiative, with the BTM Advisory Council (BTMAC) as its steering committee; a set of 40 criteria are synthesized in the BTM Accreditation Criteria 1.0 administered by Canadian Information Processing Society (CIPS).
2010: Government of Canada Launches National Consultations on a Digital Economy Strategy; CCITC publishes the white paper entitled "Canada: The go-to country for brainpower resources in the global digital economy".
2011: Based on the consultation, Government of Canada allocates CAN$ 720 million to a new digital economy strategy; CAN$ 60 million are dedicated to IT human resources development.
2013: Simon Fraser University (SFU) programs obtain the first BTM accreditation from CIPS.
2014: CCITC obtains a Government of Canada grant of CAN$ 1.6 million to develop and promote BTM programs; it merges with the IT Association of Canada (ITAC) to become ITAC Talent; first edition of BTM TalentMash is launched, which will develop into a Canada-wide annual job fair and competition, held every Fall until 2018 in 5-7 Canadian cities.
2015: The National Business Technology Management (BTM) Conference 2015 is organized in Halifax, NS, during the Administrative Sciences Association of Canada (ASAC) Conference.
2016: The BTM Accreditation Criteria 2.0 are published, growing to 70 criteria organized in 7 knowledge domains; a second edition of the BTM Conference is organized in Edmonton, AB, during the ASAC Conference; the BTM Forum is created with the BTM Governing Council (BTMGC) to run a professional networking organization, and the BTM Accreditation Council (BTMAC) to administer program reviews.
2017: The number of BTM accreditations and recognitions reaches 10 institutions among 20+ that offer BTM branded programs; a third edition of the BTM Conference is organized at Université du Québec à Montréal (UQAM), Montréal, QC; students of the TMU win the first Annual BTM Case Competition; ITAC Talent obtains CAN$ 160,000 MITACS Accelerate grant with Université du Québec en Outaouais (UQO), Gatineau, QC, to launch an applied research project and develop the BTM Body of Knowledge.
2019: The first edition of the BTM BOK (v.0.1) is published on GitHub; ITAC changes name to become TECHNATION Canada; ITAC Talent is disolved given the end of Government of Canada funding.
2020: The global pandemic stalls the development of BTM Forum activities.
2021: TECHNATION Canada signs an agreement to transfer all BTM initiative trademarks, assets, and operations to the Digital Innovation Foundation (DIF).
2022: CIPS signs an agreement with BTMGC members to reintegrate BTM accreditation operations.
2023: BTMGC votes to become the BTM Council for Canada; BTM Forum develops into a global initiative, with Canada chairing the first BTM Global Council.
Who do we acknowledge as key actors in launching BTM?
While numerous contributors have made their mark on the BTM initiative, BTM Forum is most grateful to at least 3 members (and more of course, but 3 for brevity) who have dedicated many years to its development.
Where can I read more about BTM?
BTM as a concept and initiative has not been extensively studied yet. A few papers exist with online presentations available in open access format. More will be published soon in BTM Journal by a more diverse array of authors from business, computing, and engineering disciplines.